The key to our success in cleaning is in our patented cleaner, that contains no soaps or surfactants, buffers to a PH neutral solution, and leaves no residue in the carpet to attract dirt. It is completely non-toxic, and gentle enough to clean organic fibers such as wool and silk. There are no toxic fumes and no rinsing passes are required to use our cleaner. We can use our cleaner in ANY type of general carpet cleaning method required, from HWE (hot water extraction) to bonnet cleaning, thereby allowing us to react to any given situation.
With most carpet cleaning companies, the cleaner that is used will dictate the method that is used. With us, the carpet condition dictates the method, allowing us the flexibility to clean with only the amount of liquid required to get the job done right.
Soaps and detergents are great for what they are intended to do – attract dirt. In laundry, for example, your clothes are flooded with detergent, agitated, and then RINSED. In carpet cleaning, the only way to "rinse" your carpet is by flooding it with water, getting the carpet backing, pad, and subfloor wet. That moisture stays trapped in the carpet for weeks in some cases, creating mold and mildue that destroys both the carpet and the air quality of home and business. BUT, whatever soap doesn't rinse out will stay in the carpet and do what it is supposed to do…attract dirt. As dust and dirt settle to the carpet it sticks to the soap that was left behind and soils the carpet.
Vacuums are made to pull dust and dirt out of carpets in between cleanings. When there is a sticky residue trapping dirt in your carpets, your vacuum cannot do it's job. Debris that would be pulled from the carpet under normal conditions, remain trapped in the fibers where they build up. Your carpets will soil more quickly, stains seem to "come back", and the overall appearance of the carpet pile becomes matted and gray.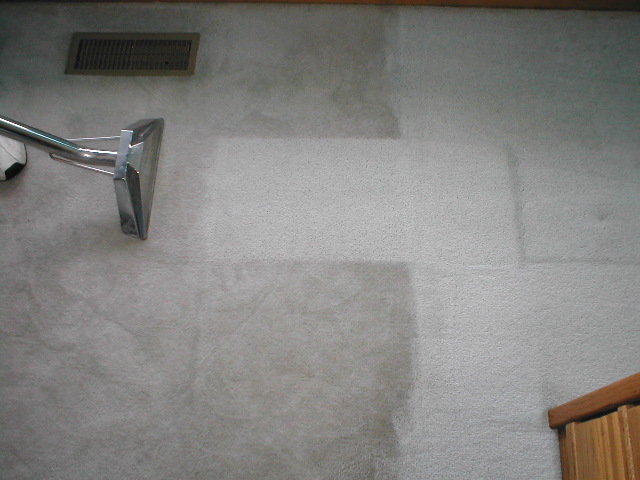 Our patented cleaner DOES NOT leave any soapy residue behind. It uses a basic chemical combination that is completely non-toxic and free of all soaps and detergents. Our DCRTM tank system allows us to use our unique formulation with systems ranging from HWE steam cleaning to hybrid HWE/roto type methods to complete bonnet/buffer systems. All methods have a proper use and place within the industry, and Carbonated SolutionsTM can correctly identify and implement the best method to suit your situation.
In addition, we can clean your tile and grout using our same quality cleaner and methods.
And of course, our work is ALWAYS guaranteed.